Badami formerly known as Vatapi, was once the capital of the Badami Chalukyas from 540 to 757 AD, situated in a ravine at the foot of a rugged, red sandstone outcrop that wraps itself around the Agastya lake.
Badami consists of beautifully carved rock caves set around the Agasthya Theertha tank with distinct influences of Hindu Brahminica, Buddhist and Jaina and Dravida temple art with enormous sculptures illustrating different stages of experimentations in the evolution of the art form. The history of Badami records the capitulation of the city in conclusion of the war between the Chalukya and Pallava dynasties. Narasimhavarman the victorious Pallava king in his rage, destroyed most of Badami and the ruins today are evocative of many fascinating legends of a Badami in its heyday.
The ruins of the city are also surrounded by many pre-historic places with rock shelters, megalithic burial sites and paintings and in the north and south by forts built much later, after the decline of the Chalukyas.
Badami Caves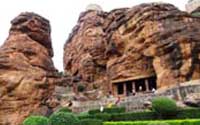 A complex of four cave temples, the Badami caves are considered noteworthy examples of Indian rock-cut architecture, especially Badami Chalukya architecture between the late 6th to 7th centuries, all carved out of soft sandstone.
The caves are entered through verandahs lined with stone columns and brackets and a corridor leading to a columned main hall and then to the small square shrine cut deep into the cave. The network of caves are linked by stepped pathways with intermediate terraces that offer spectacular views across the town and lake. The collective architecture also includes structures built in Nagara style, developed in northern India in 5th-6th century. Also noteworthy are that many of the surfaces bear inscriptions in an ancient Kannada script no longer in use. There is also a fifth cave, a natural cave that once served as a Buddhist temple. This cave is entered by kneeling on all fours
Our Top Tour Packages in South India
The four states that constitute South India are composed of distinctive geographic regions - narrow plains that fringe peninsular South India beside the Arabian Sea and the Bay of Bengal with two mountain ranges running alongside and the rocky hardtop of the Deccan and fertile central plains.
top