Hill Palace Museum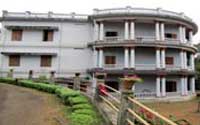 This enormous estate on a hill on the Kochi mainland houses the largest archeological museum in Kerala. Built in 1865, the complex houses 49 traditionally-styled buildings spread across 54 acres. The grounds also play host to a heritage museum, a deer park, a pre-historic park and a children's park. It is also home to several rare species of medicinal plants.
The main museum showcases the Royal Crown and ornaments of the erstwhile Cochin royal family, paintings, sculptures in stone and marble, weapons, inscriptions, coins, royal furniture, epigraphic samples, etc, most of them contributed by the royal family.
Museum of Kerala History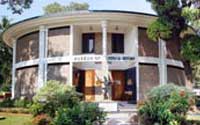 What could be more fitting than to be greeted to the Museum of Kerala History by a statue of the Kerala's mythic creator, the sage Parasurama himself?
Tucked away among giant shade trees at a discreet distance from the crowded urban madness of Ernakulam, the museum serves as a monument to Kerala's and in homage to its makers. Historic episodes from the Neolithic to the modern era are showcased here through life sized representations. While regular light and sound shows with English and Malayalam commentaries bring it all more alive. An art gallery gives it all a contemporary flavor with its over 200 original paintings and sculptures by modern Indian artists.
Kerala Folklore Museum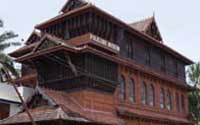 The outside of the Kerala Folklore Museum itself is eye catching – a tall wood and brick building in the traditional style of Kerala architecture. Each of the museum's three floors represents the typical architectural styles of Malabar, Kochi and Travancore. The entrance to the museum comprises of the remnants of a 16th century temple in Tamil Nadu, along with wooden carvings from across Kerala. A'manichithrathazhu', the ornate and traditional door lock of Kerala on the front door, is strictly ornamental!
Inside is a breathtaking treasure trove – numbering more than 4000 exhibits! – of startlingly life-like masks, wood, stone and bronze sculptures, costumes, quaint musical instruments, traditional jewelry, Stone Age utensils, rare and esoteric astrological and medicinal manuscripts, among others; all standing in silent testimony to Kerala rich and vibrant art, folk, dance and cultural traditions. Later in the night, some of those traditions come alive in the wood-lined theater on the top floor (with its splendid 17th century wooden ceiling) with live displays and performances.
Our Top Tour Packages in South India
The four states that constitute South India are composed of distinctive geographic regions - narrow plains that fringe peninsular South India beside the Arabian Sea and the Bay of Bengal with two mountain ranges running alongside and the rocky hardtop of the Deccan and fertile central plains.
top