The famous beach resort of Kovalam comprises of three beaches separated by rocky outcroppings and, together form the famous crescent of the Kovalam beach.
Lighthouse Beach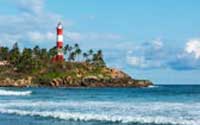 The southernmost beach, very popular with tourists. Named after the old Vizhinjam Lighthouse located on a rocky promontory here.
Hawa Beach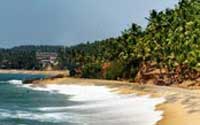 The largest of the Kovalam's beaches and mostly calm bay. Hawa Beach, comes alive early in the day with fishermen setting out for sea. The beach wears its alluring best on moonlit nights.
Samudra Beach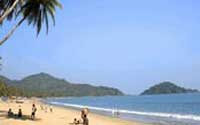 Samudra Beach is less crowded and more peaceful than Hawa beach, its waters shallow and ideal for swimming. Steep palm covered headlands fringe the beach with shops offering a range of goods and services.
Vizhinjam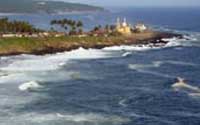 Vizhinjam is renowned for its Ayurvedic treatment centers and a row of beach resorts along its narrow strip of beach. Vizhinjam is also a major fishing harbor fringed by a line of hills that overlook the sea and offer spectacular views of the ocean and the palm filled landscape. Visitors with an interest in history may visit a cluster of ancient cave temples designed in the Kerala style just outside the town.
Our Top Tour Packages in South India
The four states that constitute South India are composed of distinctive geographic regions - narrow plains that fringe peninsular South India beside the Arabian Sea and the Bay of Bengal with two mountain ranges running alongside and the rocky hardtop of the Deccan and fertile central plains.
top