Palakkad is the gateway to Kerala from Tamil Nadu through a 40 kilometer break in the Western Ghats. The Palakkad Gap, as it is called, once facilitated trade between the east and west coasts of Peninsular India. Palakkad derives its name from the sweet-scented flower of the 'pala' tree and from 'kaadu', meaning 'forest', Palakkad is a lush district of fertile plains, hills, rivers, mountain streams and forests. This 'Granary of Kerala', is also 'The Land of the Palmyra', thanks to the abundance of the tree here with its rich cultural associations. A mix of Tamil and Kerala culture, some of the finest Carnatic musicians hail from this largely agrarian region.
Palakkad/Tippu's Fort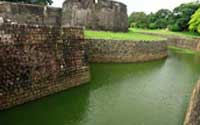 Tippu's Fort, with its sprawling and impressive girth, is the town of Palakkad's most prominent landmark. Situated in the heart of the city, the laterite-built fort is one of the best preserved in Kerala. It was actually built by Tippu Sultan's father, Haidar Ali, in1766 A.D. Little is known of its early history, except that it was built during the decade after the independent ruler of Palakkad had asked for Haidar Ali's help against a possible invasion of his kingdom by the Zamorin of Kozhikode. Haider was only too eager to help and, needless to say, gain possession of the strategically important area of Palakkad. So, too, as it turned out, were the British. The result of this twin interest was that from 1766 to 1990 the fort kept changing hands between the Mysore rulers and the British. The latter eventually won and used the fort as a base for operations that ended with the storming of the Kingdom of Mysore's key bastion, Srirangapatna.
The fort is a protected monument under the Archeological Survey of India.
Malampuzha Dam And Garden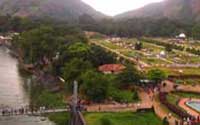 The lush green town at the foothills of the Western Ghats takes its name from the River Malampuzha – and its fame from the picturesquely situated dam nearby across Kerala's largest reservoir. The area is a major tourist attraction for the abundance of trekking trails on the surrounding hills.
Neither does the Malampuzha Dam lag far behind in catching the tourist's eye. Sumptuously laid out gardens and amusement parks, boating facilities on the large lake, an rock garden imaginatively constructed of broken pieces of bangles, tiles, used plastic cans, tins and other waste materials!, a fish-shaped aquarium, snake park, a swaying ropeway (which takes you on an aerial, if vertiginous, tour of the park!) and the gigantic 'Yakshi', or enchantress, sculptured by the eminent Kerala sculptor, Kanai Kunhiraman.
Our Top Tour Packages in South India
The four states that constitute South India are composed of distinctive geographic regions - narrow plains that fringe peninsular South India beside the Arabian Sea and the Bay of Bengal with two mountain ranges running alongside and the rocky hardtop of the Deccan and fertile central plains.
top