Periyar National Park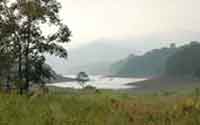 The Periyar National Park is set in a valley between the Caradamom and Pandalam hills with Kerala's longest river, the Periyar, flowing through, providing a perennial source of fresh for the denizens of the park.
A protected wildlife reseerve area and an elephant and tiger reserve, the sanctuary surrounds the Periyar Lake and is home to a fascinating number of species of flowering plants, trees, mammals, birds, fresh water fish, reptiles and insects, many of them unique to the area and whose habitats are the evergreen and moist deciduous forests, grasslands and lake and river ecosystems that abound in the Park.
Periyar Lake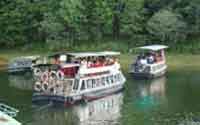 A boat trip across the Periyar Lake is indeed a memorable experience. Situated in the middle of the wildlife park, the lake attracts herds of elephants and deer to drink its water. Herds of gaur, sambar and bison can be spotted on the grasslands beside the lake. During the drier months of March and April the animals appear at the water more frequently to refresh themselves.
More than 30 species of fresh water fish flourish in the lake. Otters are a common sight. As are birds like darters, egrets and kingfishers, among others, in and around the waters here.
Jeep Safari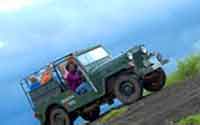 Conducted at different times in the course of the day, the jeep safari through the wildlife sanctuary through dense vegetation provides visitors with a close up view of places that are otherwise inaccessible at times of the day when animals tend to be more active. Visitors will often spot troops of langurs, giant squirrels and birds. The extremely fortunate may even see a tiger chasing its prey. The safari ends at the biological garden in a hamlet named Gavi, home to many endangered species like the lion tailed macaque and the nilgiri tahr.
Bamboo Rafting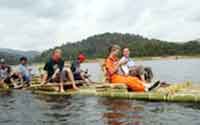 Physically taxing – a dawn to dusk program that combines a trek and a rafting expedition through some of the densest and most gorgeous forest tracts of the Periyar Tiger Reserve and the Periyar River. The day starts early, trekking through seemingly impenetrable forests rich in bird life and arboreal animals like the Giant Squirrel and the Nilgiri langur, Gaurs and herds of elephant. And then participants embark on a three hour expedition on a bamboo raft on the river.
Our Top Tour Packages in South India
The four states that constitute South India are composed of distinctive geographic regions - narrow plains that fringe peninsular South India beside the Arabian Sea and the Bay of Bengal with two mountain ranges running alongside and the rocky hardtop of the Deccan and fertile central plains.
top