A small coastal town to the north-west of Kerala's capital Thiruvananthapuram, Varkala is renowned for its 2,000-year old Janardana Swami Temple, an important Vaishnavaite shrine in India, unique sandstone cliffs along the coast and very pretty beach at the foot of these cliffs.
The temple overlooks the Papanasam beach whose holy waters are believed by Hinds to wash away their sins. The temple contains an ancient bell from a Dutch ship that was wrecked here long ago. The vessel suffered no casualties in the incident and in gratitude, the captain of the Dutch vessel donated the ship's bell to the temple.
Varkala it is also known for its Ayurvedic spas and clinics that use water from the numerous mineral water springs that are found in the area.
Sivagiri, the nearby hill-top mausoleum of one of Kerala's foremost social reformers, Sree Narayana Guru, is one of the most famous monuments in Kerala.
Papanasam Beach/Varkala Cliff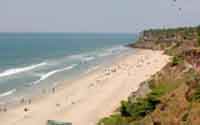 The Cenozoic sedimentary formation cliffs known geologically as the 'Varkala Formation' that fringe the Papanasam beach abut into the sea and numerous mineral water spouts and spas on these cliff-sides attract travelers. Calm sea, small lodges and eateries and shops selling souvenirs lining the top edge of the cliff make the Papanasam beach very popular with visitors.
Our Top Tour Packages in South India
The four states that constitute South India are composed of distinctive geographic regions - narrow plains that fringe peninsular South India beside the Arabian Sea and the Bay of Bengal with two mountain ranges running alongside and the rocky hardtop of the Deccan and fertile central plains.
top